Solar River by Johanna Schlosser
The project envi­sions a large-scale instal­la­tion of organ­ic pho­to­volta­ic films, span­ning across the 'Wien­fluss' canal. Fol­low­ing the course of the water for hun­dreds of meters through the city of Vien­na, the instal­la­tion itself takes on a wave­like shape, cre­at­ing the impres­sion of a larg­er riv­er flow­ing above. Arranged in sim­ple stripes the translu­cent pho­to­volta­ic pan­els form col­or­ful waves gen­er­at­ing elec­tric ener­gy from sun­light.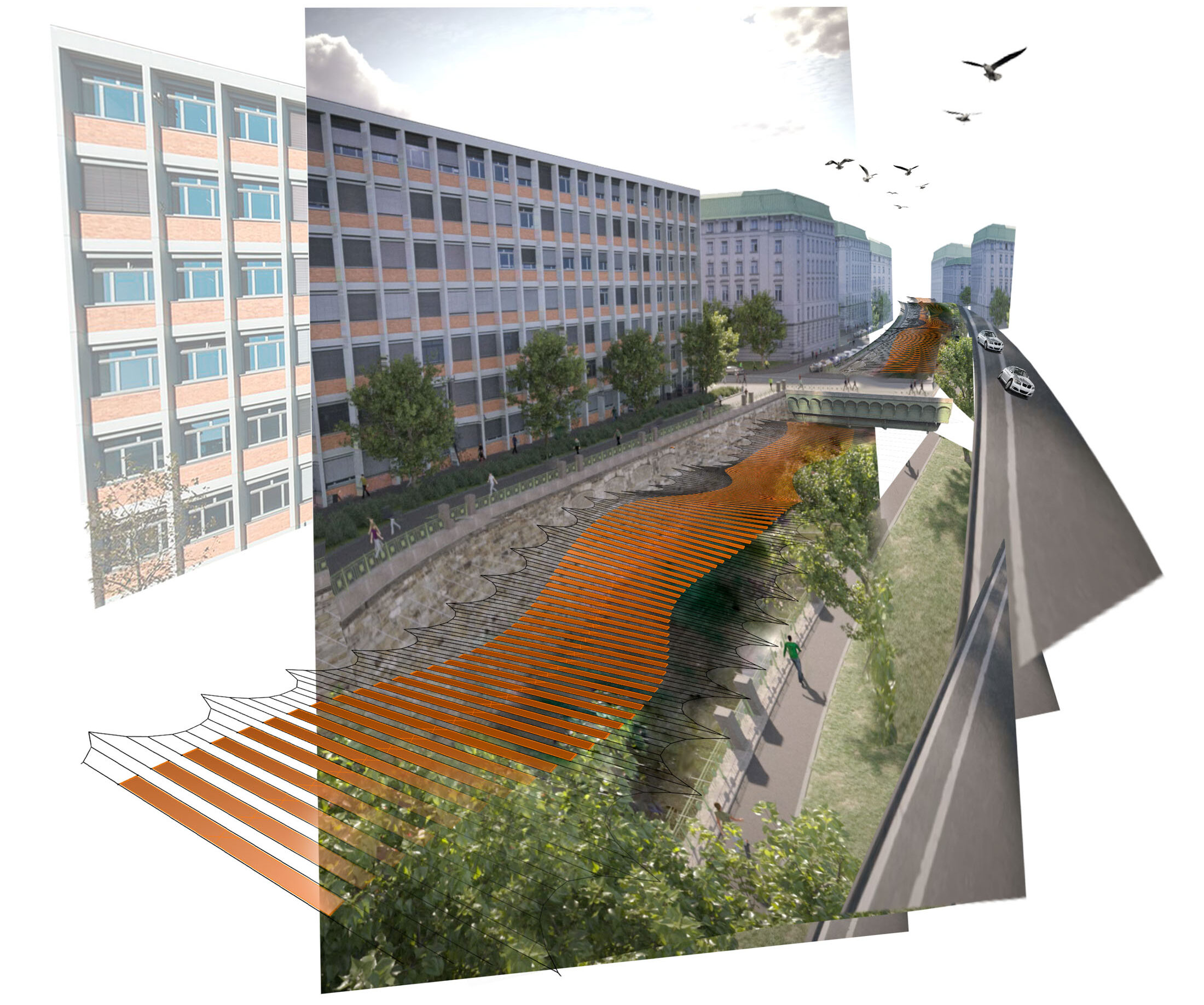 Who The 'Solar Riv­er' and its appeal­ing play of orange col­ored shad­ows can be observed by any­one from the build­ings and side­walks along the riv­er. Since it is locat­ed in pub­lic space, it is installed by the City of Vien­na and pro­vides ener­gy for the city's res­i­dents.
Why The project aims to inte­grate a large pho­to­volta­ic sys­tem in an inno­v­a­tive and visu­al­ly appeal­ing way. By open­ing up a sur­face above the 'Wien­fluss', a large area in the city is made avail­able for sus­tain­able ener­gy pro­duc­tion. To con­struct a sta­ble sus­pen­sion of this size, the advan­tages of light­weight and flex­i­ble pho­to­volta­ic film are used.
How A net struc­ture made of wire ropes holds long pan­els of pho­to­volta­ic film. It is attached to the inner walls of the con­crete riverbed at dif­fer­ent heights, which gives it the appear­ance of gen­tle waves. The size and mount­ing heights of the struc­ture can be adjust­ed to the require­ments caused by the course of the riv­er.
Where Sit­u­at­ed direct­ly above the 'Wien fluss', the project makes use of a space in the mid­dle of the city that was pre­vi­ous­ly bare­ly usable. It can either extend over short­er dis­tances or take up the entire length of the riv­er. How­ev­er, the 'Solar Riv­er' instal­la­tion could also work as a mod­el for per­me­able roof­ing else­where in the city.